Trolley
After we had removed both axles we soon noticed that moving the van around became significantly more difficult. We had to find a solution to this problem, since everyone needed to walk around the van which was conveniently positioned right in the middle of the garage. After a quick stop at the local hardware store we ended up with two pairs of caster wheels and a few hands full of metal.
The little trolley we ended up designing is based on a never failing mechanical engineering principle: over engineered to last an eternity. The design has proven to be a big success; we have transported the Kombi across a diversity of surfaces, varying from asphalt to cobble stone roads. We easily moved her around in the garage and even all the way to the paint shop and back. Unfortunately, the little rubber tyres did not cope well with the hours they spent in the giant oven at the pain shop; by the time we reached our own garage they cracked!
The trolley supports the chassis at two places; at the front and rear near the jack supports. We installed wooden beams on top of the trolley's cross beams that have slots that fit the chassis. Note, that if you are going to cover a big distance, strapping your van to the trolley is recommended; bad roads can make your van jump like a bull. 
Apparently we designed something that we should have patented; we have received numerous enquiries from people asking us if the trolley was for sale, where they can get one or how to make one them selves. Look no further as below is the full material list and technical drawing to build your own:
3x Beam in the length of your van (40x40mm): 132cm of length 
2x Upper beam across the length of your van (40x40mm): 100cm of length
2x Lower beam across the length of you van (40x40mm): 140cm length
4x Vertical pipe (35mm): 21cm of length 
4x Skewed supports (40x40mm): approximately 29cm of length 
4x Angle bar (50x50x40mm) 
2x Wooden beam (40x70mm): 90cm of length
2x Caster wheel (diameter 160mm) 
2x Fixed wheel (diameter 160mm)
One final remark about the wheels: in our experience, having caster wheels at the front and fixed wheels at the back greatly improved the ability to control the direction it was going when pushing the van over great distances and uneven surfaces. However, having four caster wheels does make it easier to move the van around in small spaces.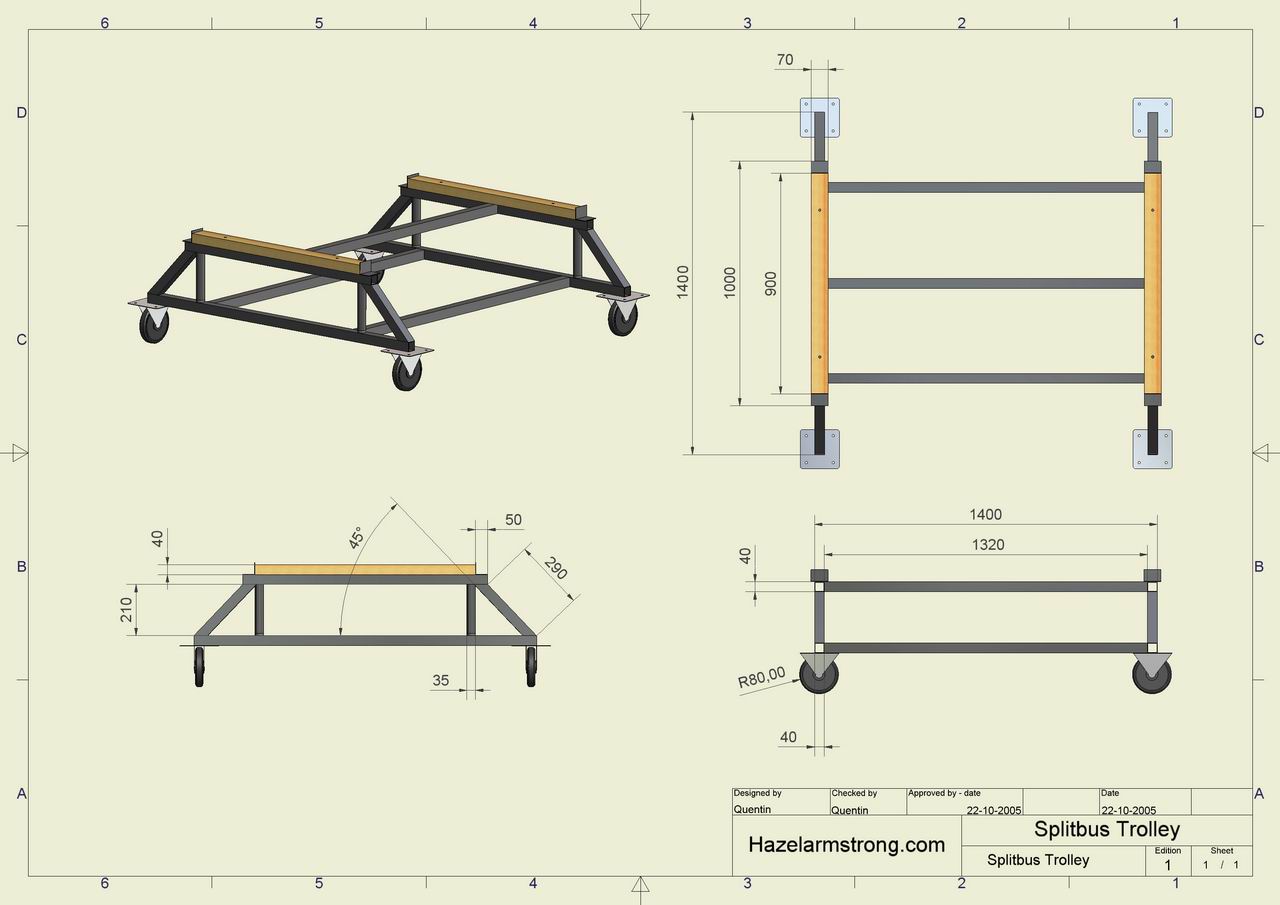 To save the technical drawing: right click, Save image as...